How to Get DAZN in Ireland on All Devices
The fact that you are searching for how to get DAZN in Ireland on all devices goes down to a big problem that has been arising with TV subscriptions in the past few years. The lack of value.
Sky TV? €37 per month after a certain period of time. €37 per month for no sports channels. Adding Sky Sports to that? €25 at first and €40 in the long-term. €77 for Sky sports that will offer you the Premier League and some other sports and matches, but will never show you precisely what you want because Sky worries more about providing what's most popular rather than what matters to everyone.
We are going to show you can watch your favorite leagues such as the NBA, NFL, NHL, Champions League, Premier League, Serie A, Ligue 1, and that's just to name a few, for the price of your 2 monthly TV subscriptions, for a year. A savings of around €770 per year. YOU ARE WELCOME!
On this blog we also help people get American Netflix outside of the US, Hulu, American Amazon Prime, and that's just to name a few. Make sure to check out these posts after you finished reading this, as frankly, if you apply what's here, and you already have Netflix, you can get double the content without paying anything extra.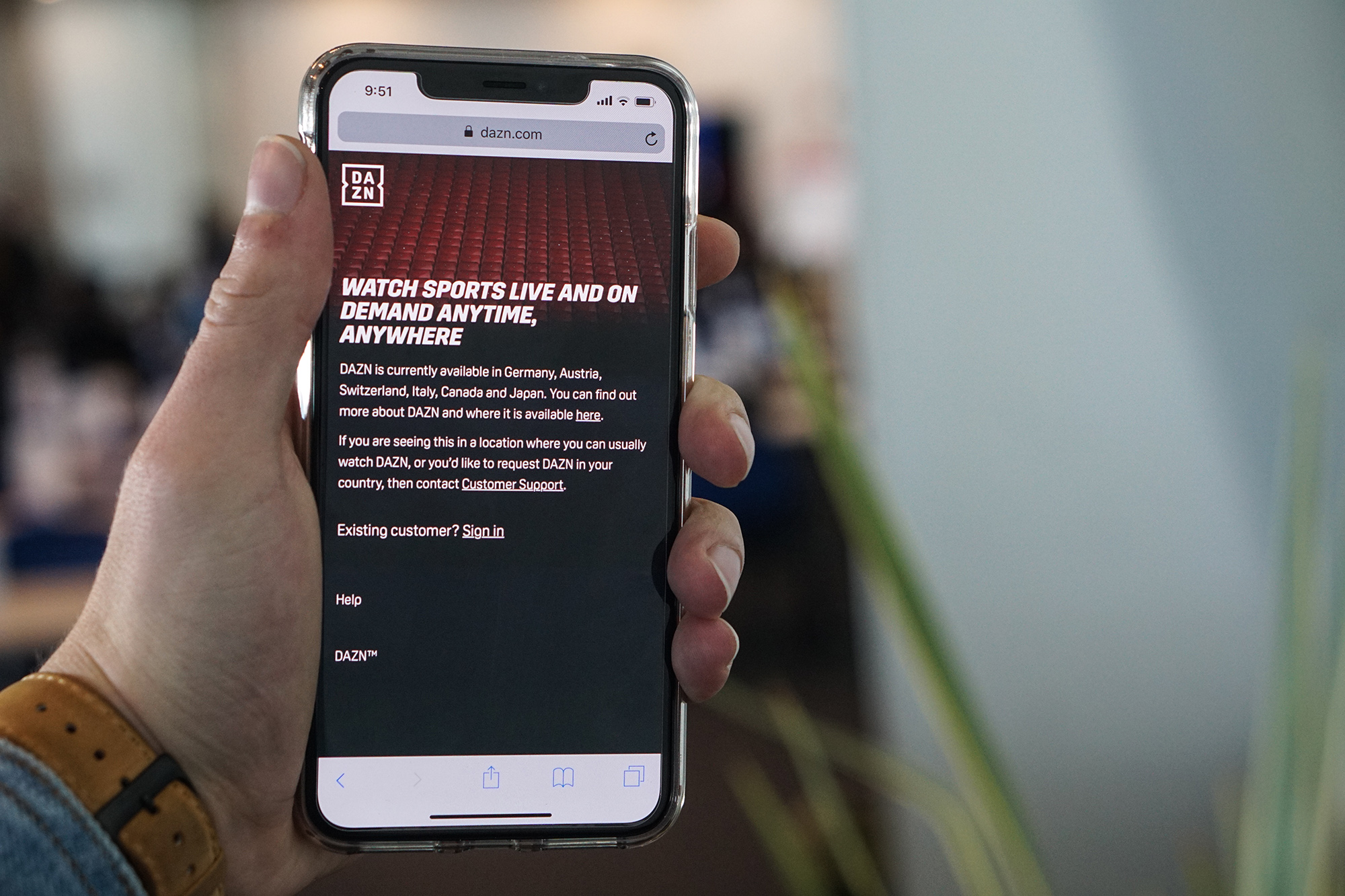 But let's talk about how to get DAZN in Ireland on all devices whether you rock an iPhone, iPad, Android device, a Fire TV Stick, or just a computer. And we strongly recommend that you read everything so that this works for you.
What Needs to Happen so That You Can Get DAZN in Ireland on All Devices?
To get DAZN in Ireland on all devices you first need to trick DAZN into thinking that you are in Canada followed by making an account, and fooling your app store into thinking that you are in Canada.
Why?
The only way that DAZN will let you in to watch DAZN or even to make an account is if you are in Canada. Otherwise, you will see a message about DAZN not being available in your location.
Registration is of course required, but the steps around this registration differs a lot to other registrations. Therefore it's a slightly more complicated process.
You need to fool your app store as if you don't then DAZN won't show up preventing you from watching on your mobile device or TV as you can only watch from the web browsers on desktop devices.
Now that you know what needs to happen so that you can get DAZN in Ireland on all devices let's go through these steps.
Fooling DAZN into Thinking That You Are in Canada in Order to Get DAZN in Ireland
There's only one way to fool DAZN in order to get DAZN in Ireland. It involves changing your location virtually.
If you are in Canada virtually, in theory, DAZN should work.
Now, a VPN is a tool that will allow you to change your location virtually, but this is where your VPN provider really matters because most VPN services won't work with DAZN due to the fact that DAZN makes a tremendous effort to prevent VPN services from working with it.
Why? As rights to show content cost a lot of money, and the companies that hold rights to show certain matches in Ireland for instance, they want to make money they spent on licenses back, and for they want you to pay that €77 per month, and create massive pressure on the likes of DAZN.
You can pay a lot for VPN services, or you can pay less, you can get services with hundreds of servers, or you can get some with less, but most importantly, DAZN needs to work with these servers, and the problem is that most services don't work with it regardless of how much you pay.
A service that works with DAZN? PrivateVPN. Now, we know what you are thinking. You are reading this on the blog of PrivateVPN but it's true, we are one of the few VPN services that support DAZN. See, we don't have the most servers ever, but we do make sure that all of the servers that we have are of use to people rather than just being numbers that don't provide any value to you. We are the most supported Netflix VPN for instance. And that's because we choose quality over quantity.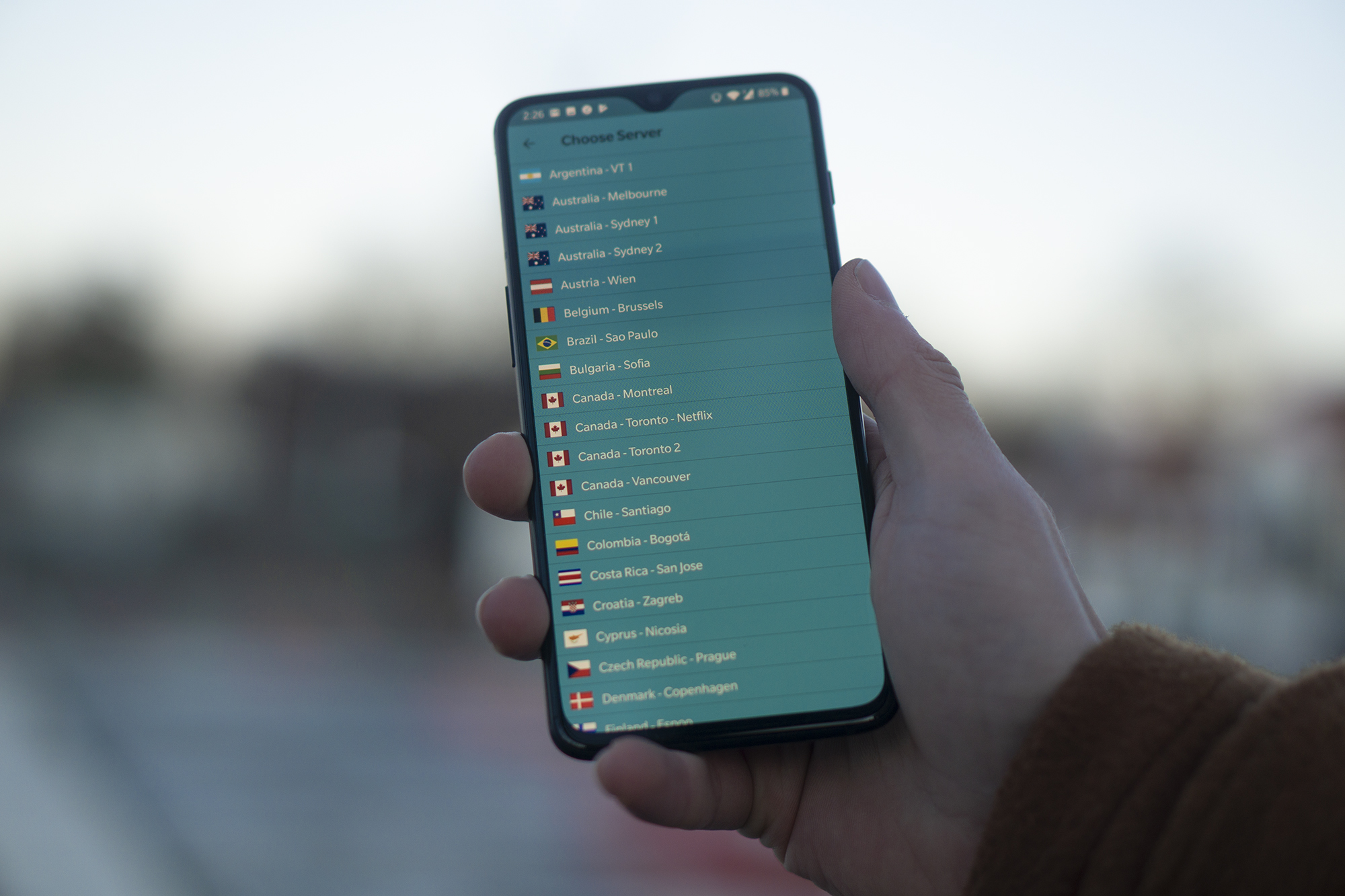 Now, feel free to search for other VPN services if you would like, but good luck finding one at such value with support for DAZN, and with a 30-day money-back guarantee.
Either way, a VPN is needed.
If you are planning to use PrivateVPN, you need to create an account which is just a 30-second process followed by downloading our client on whatever platform you are on and then just connect to one of our Canadain servers. Depending on when you are reading this, the app should tell you which Canadian server works with DAZN, but if it doesn't, just try them all. There's currently 4 Canadian servers so it shouldn't be too hard.
Once you have that step done, you have completed the most critical step as far as getting DAZN in Ireland on all devices is concerned.
The most important, but not the hardest...
Making A DAZN Account to Get DAZN in Ireland
This is the hardest step, and we will share as to why in just a second.
See, DAZN gets so much pressure that it really needs to make solid efforts to prevent others from using DAZN.
That's why if you want to use Canadian DAZN, you need to have a Canadian card.
And that's difficult, but before you give up, remember of that €770 that you are saving.
What can you do to get DAZN in Ireland as far as that problem?
Ask a friend that's Canadian or lives in Canada and has a Canadian issued card. Offer to share your subscription if they help you out.
Ask a friend or someone that you might follow and know if they want to do a service exchange. Perhaps offer them details to your Netflix in exchange for access to their DAZN.
Get a virtual prepaid card issued in Canada. That will require some research as far as getting the right one, but if you care about that €770 savings, it's worth doing. Getting a virtual card might be the quickest method though. When you set one up though, make sure to have money on it right away, as funds are needed for you to be able to register.
Use a prepaid card issued in Canada. Now, this will require you to wait, but it might be easier to find a prepaid card issued in Canada rather than a virtual one.
Other than that, it's just like registering on any other side, just make sure you have a Canadian card, and provide a Canadian address you can find with an address generator.
Registration mixed with being connected to the right server with PrivateVPN will allow you to get DAZN in Ireland, but you want to use it on all devices, right? So far you can only watch it on desktops. Other devices?
Let's walk through that now.
How to Get DAZN in Ireland on Apple devices
If you want to get DAZN in Ireland on Apple devices, you need to fool your App Store into thinking that you are in Canada.
Whatever you do, do not attempt to try to find a solution on your own because you will end up losing everything you have.
You can change the location of your store with your current account, but that will lead to loss of all content.
That's why it's essential to create a new account which you can do after signing out of your current iCloud account in the settings of your phone or tablet.
When making a new account, make sure to select Canada as your location, and that will allow you to watch get DAZN in Ireland on your Apple devices.
After you download DAZN, you can, of course, sign out of that account, and sign back into your old one.
Speaking of downloading apps, don't forget to download PrivateVPN.
How to Get DAZN in Ireland on Android Devices
On Android devices, you actually do have to make changes to your current account rather than making a new one.
Go to payments.google.com and click on Settings followed by Country tab. Choose Canada and provide a Canadian address.
Submit and go into Settings on your device followed by Apps. There you need to find the Google Play Store where you need to press Force Stop.
While still in Settings go to Storage and click the button in caps that states CLEAR DATA.
That should allow you to download DAZN on your Android device in Ireland, and if not, repeat force stopping and clearing data.
How to Get DAZN in Ireland on the Amazon Fire TV Stick
On the Amazon Fire TV Stick, you actually need to change your store to be in the US.
For that go to amazon.co.uk, click on Your Account, and while there, go to Content and Devices where you will need to change to the American store.
After you do that, you need to go into Settings on your Fire TV Stick or Cube followed by My Account and by Deregister.
You will need to provide your Amazon details again after waiting a few moments, but you will be able to see the DAZN app.
Depending on the type of payments on your current account, you might need to change your method of payment in order to download DAZN even if it shows. Getting a virtual US card is pretty easy, and it doesn't require you to have any money on it. But you will only have this issue in very rare cases.
What About Getting DAZN in Ireland on Other Devices?
Amazon devices, Apple, and Android devices are where these tricks will work on, along with all desktop devices of course.
Anything else? Due to the limitations of the likes of Chromecasts and Apple TV's, you will not able to get DAZN in Ireland on these. Our advice? Invest in the Amazon Fire TV Stick if you want to watch on the big screen.
And make sure to check out our blog to learn about how you can access more than ever while also staying safer than ever when on the internet, with PrivateVPN.
Written by Michael Smolski.