The Baseball Season Starts Soon: Where to Watch MLB and How to Watch it With a VPN?
With the anticipation of the MLB season building up, baseball enthusiasts worldwide are gearing up for the thrilling journey that lies ahead. The American League Championship Series and the National League Championship Series, both presented by loanDepot, are set to captivate fans starting in mid-October. Meanwhile, the 2023 World Series, presented by Capital One, promises to be the pinnacle of excitement, with Game 1 scheduled for October 27.
But for fans living outside the broadcast region or concerned about online privacy, watching MLB games can be a challenge. This is where a VPN (Virtual Private Network) becomes an invaluable tool. In this article, we'll guide you on where and when to watch MLB games and explore why using a VPN is a smart choice for MLB enthusiasts.
Discover how a VPN can unlock regional broadcasts, bypass geographical restrictions, and enhance your online privacy and security while enjoying America's favorite pastime. Plus, we'll introduce PrivateVPN as the top pick for a seamless and secure MLB streaming experience. Don't miss a moment of the action – read on to make the most of the upcoming baseball season.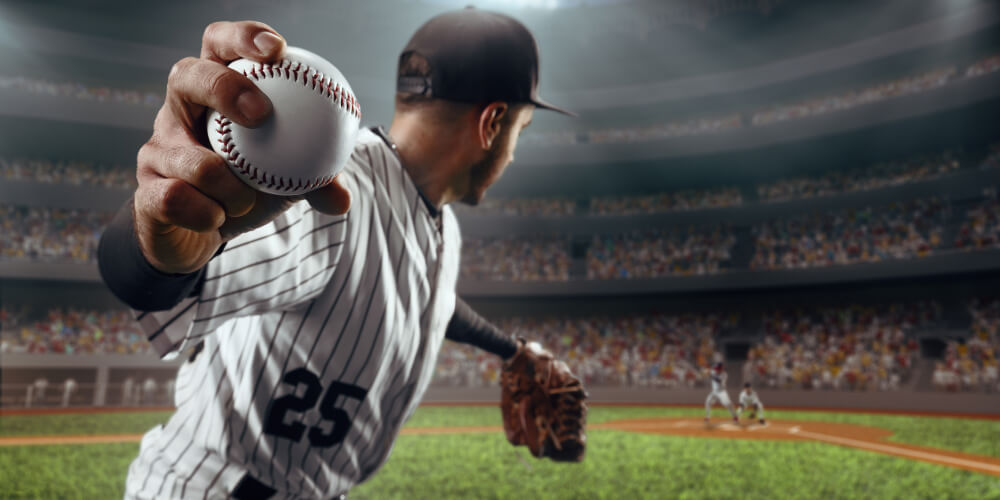 Where to Watch MLB?
As the MLB season gets into full swing, it's crucial to know where you can catch all the thrilling action. Whether you're a die-hard fan or a casual observer, knowing where to watch MLB games can enhance your baseball experience. Here's a comprehensive guide on where to catch the games:
1. Television Broadcasts:
FOX and FS1: The American League Championship Series (ALCS) will be televised by FOX or FS1. They will also cover ALCS Games 2, 4, 5 (if necessary), 6 (if necessary), and 7 (if necessary).
TBS: The National League Championship Series (NLCS) will be exclusively telecast on TBS, including NLCS Games 1, 2, 3, 4, 5 (if necessary), 6 (if necessary), and 7 (if necessary).
ESPN: While not mentioned in the provided schedule, ESPN often broadcasts regular-season MLB games and may have a role in the postseason, so it's worth checking their schedule.
2. MLB.TV Subscribers:
MLB.TV subscribers can access all games that are televised by FOX, FS1, or TBS, provided they are authenticated subscribers through a participating pay TV provider. This is an excellent option for fans who prefer streaming or are on the go.
3. ESPN App:
The Wild Card Series will be available via the ESPN App, providing flexibility for viewers who prefer to stream games on their mobile devices or tablets.
4. ESPN Radio:
ESPN Radio will provide live national coverage of all 2023 MLB Postseason games, starting with the Wild Card Series. This is an ideal choice for fans who prefer to listen to the games while on the move or in areas with limited access to TV broadcasts.
When Will Games Take Place?
Mark your calendars and clear your schedules because the MLB postseason is about to unfold with an action-packed lineup of games. To ensure you don't miss a single moment of the baseball excitement, here's a breakdown of when the games will take place:
Wild Card Series (October 3-5)
The postseason kicks off with the Wild Card Series on October 3rd, consisting of AL Wild Card A, AL Wild Card B, NL Wild Card A, and NL Wild Card B games.
These games continue on October 4th with Game 2 for each series.
If necessary, Game 3 for the Wild Card Series will be played on October 5th.
Division Series (October 7-14)
The Division Series begins on October 7th with ALDS A, ALDS B, NLDS A, and NLDS B Game 1s.
The action continues on October 8th with Game 2 for ALDS A and B.
On October 9th, Game 2 for NLDS A and B takes place.
October 10th sees the return of ALDS action with Game 3, and the NLDS follows suit.
October 11th brings Game 3 for NLDS A and B and, if necessary, Game 4 for ALDS A and B.
October 12th potentially features Game 4 for NLDS A and B.
October 13th marks the possible Game 5 for ALDS A and B.
The Division Series wraps up on October 14th with potential Game 5s for NLDS A and B.
League Championship Series (October 15-24)
The ALCS begins on October 15th with Game 1.
On October 16th, the NLCS commences with Game 1, and the ALCS continues with Game 2.
October 17th features Game 2 for the NLCS.
The action-packed week continues with games on October 18th, 19th, and 20th for both series.
October 21st and 22nd potentially showcase Game 5 for the NLCS and Game 6 for the ALCS, respectively.
October 23rd and 24th are reserved for potential Game 6 for the NLCS and Game 7 for the ALCS.
World Series (October 27 - November 4)
The grand finale, the 2023 World Series, begins on October 27th with Game 1.
Game 2 follows on October 28th.
After a brief break, the series resumes on October 30th with Game 3.
Halloween night, October 31st, features Game 4.
November 1st brings the potential Game 5.
November 3rd marks the possible Game 6.
And if it all comes down to a Game 7, it will be played on November 4th, determining the 2023 World Series Champions.
Why Should You Watch With a VPN?
Watching MLB games with a VPN (Virtual Private Network) can significantly enhance your viewing experience, and here's why it should be your go-to choice:
1. Access to Regional Broadcasts
One of the primary benefits of using a VPN for MLB streaming is the ability to access regional broadcasts. If you're a fan of a particular team but find yourself outside their broadcast region, a VPN can make it appear as though you're in that region. This means you can watch your favorite team's games, even when you're not in their designated viewing area.
2. Bypassing Geographical Restrictions
Geographical restrictions can be a major obstacle for viewers trying to watch MLB games from different countries or regions. Streaming platforms often limit access based on the viewer's location. A VPN can help you bypass these restrictions by connecting to a server in the desired location. So, whether you're traveling or living abroad, you can enjoy unrestricted access to MLB games.
3. Privacy and Security
Beyond just accessing MLB games, a VPN provides an added layer of online privacy and security. It encrypts your internet connection, making it extremely difficult for third parties to monitor your online activities. This is especially important when streaming sports content online, as it safeguards your personal information from potential threats.
4. Protection Against Bandwidth Throttling:
Internet service providers (ISPs) sometimes throttle your internet speed when they detect high data usage, such as when streaming video content. With a VPN, your ISP won't be able to distinguish between regular internet usage and streaming. This means you'll experience consistent, high-speed streaming, even during peak game times.
5. Avoid Blackout Restrictions
Blackout restrictions are put in place to protect local broadcasters. If you're in an area with blackout restrictions, you may not be able to watch certain games online. However, with a VPN, you can connect to a server outside the blackout region, allowing you to enjoy the game without any restrictions.
6. Stream Safely on Public Wi-Fi
When you're on the go and want to catch an MLB game, you might connect to public Wi-Fi networks. However, public Wi-Fi can be less secure. By using a VPN, you create a secure and encrypted connection, ensuring your data remains protected while you enjoy the game.
7. Flexibility and Accessibility:
A VPN provides flexibility and accessibility by allowing you to connect to servers in different locations. This means you can switch between different streaming platforms and access content that might be exclusive to specific regions.

PrivateVPN - The Best MLB VPN on The Market
When it comes to choosing a VPN for your MLB streaming needs, PrivateVPN stands out as a top-notch option, offering a seamless and secure viewing experience.
Final words
The buzz around the MLB is huge, and as baseball enthusiasts gear up for the upcoming season, it's essential to know where and when to catch all the thrilling action. While TV broadcasts, streaming platforms, and radio coverage offer multiple options, geographical restrictions can sometimes limit access. That's where a VPN (Virtual Private Network) comes into play, ensuring you never miss a crucial pitch or game-changing home run.
With the 2023 MLB postseason schedule already packed with excitement, knowing when the games will take place is crucial. From the Wild Card Series in early October to the grand finale, the World Series, in late October and early November, baseball fans are in for a treat. However, whether you're traveling, living abroad, or simply looking to enhance your online privacy, watching MLB with a VPN offers a multitude of benefits.
As you prepare to enjoy the 2023 MLB season, make PrivateVPN your go-to companion to ensure an uninterrupted and secure viewing experience.