When Is DAZN Coming to the UK and How to Access It Before That
DAZN is a company based in the UK, yet the UK is one of the places you can't access it in. But when is DAZN coming to the UK? And how can you access it before it does?
TV Channels Are a Problem
If you are wondering when is DAZN coming to the UK, to put simply, most likely not in a very long time.
It goes down to the TV channels in the UK. There are simply too many exclusive rights owned by other TV channels for DAZN to be coming to the UK anytime soon.
The likes of UEFA want to make the most money possible from streaming rights. The best way to do that? By giving TV channels exclusive rights for a certain region as while that may cost a lot, it eliminates competition, forcing people to use a certain channel if they want to watch that piece of content.
And that puts DAZN in the tight spot as they aren't able to get rights for content, and if they can't get rights for content, then why should somebody pay for a subscription.
If you are wondering when is DAZN coming to the UK, not for a very long time due to this.
But there is a way to access it before that if you really want the freedom to watch whatever match you desire instead of what's chosen for you.
How to Access DAZN Before It Comes to the UK
This won't be easy as DAZN takes a few precautions to prevent people from countries where DAZN is not supported, from watching, but if you are searching for when is DAZN coming to the UK and how to access it before that, the chances are you really want to be able to use it.
There are 3 steps for that. Registration, tricking DAZN into thinking you are in Canada and downloading DAZN apps.
All are vital, well, unless you already have a DAZN account, which would be great. But before we even get into registration, we need to go over tricking DAZN, as if you don't, you won't even be able to access DAZN in the first place.
Trick DAZN into Thinking You Are Not in the UK
If you are in the UK, if you visit the DAZN site, you will see a message about the fact that DAZN is not available in the UK.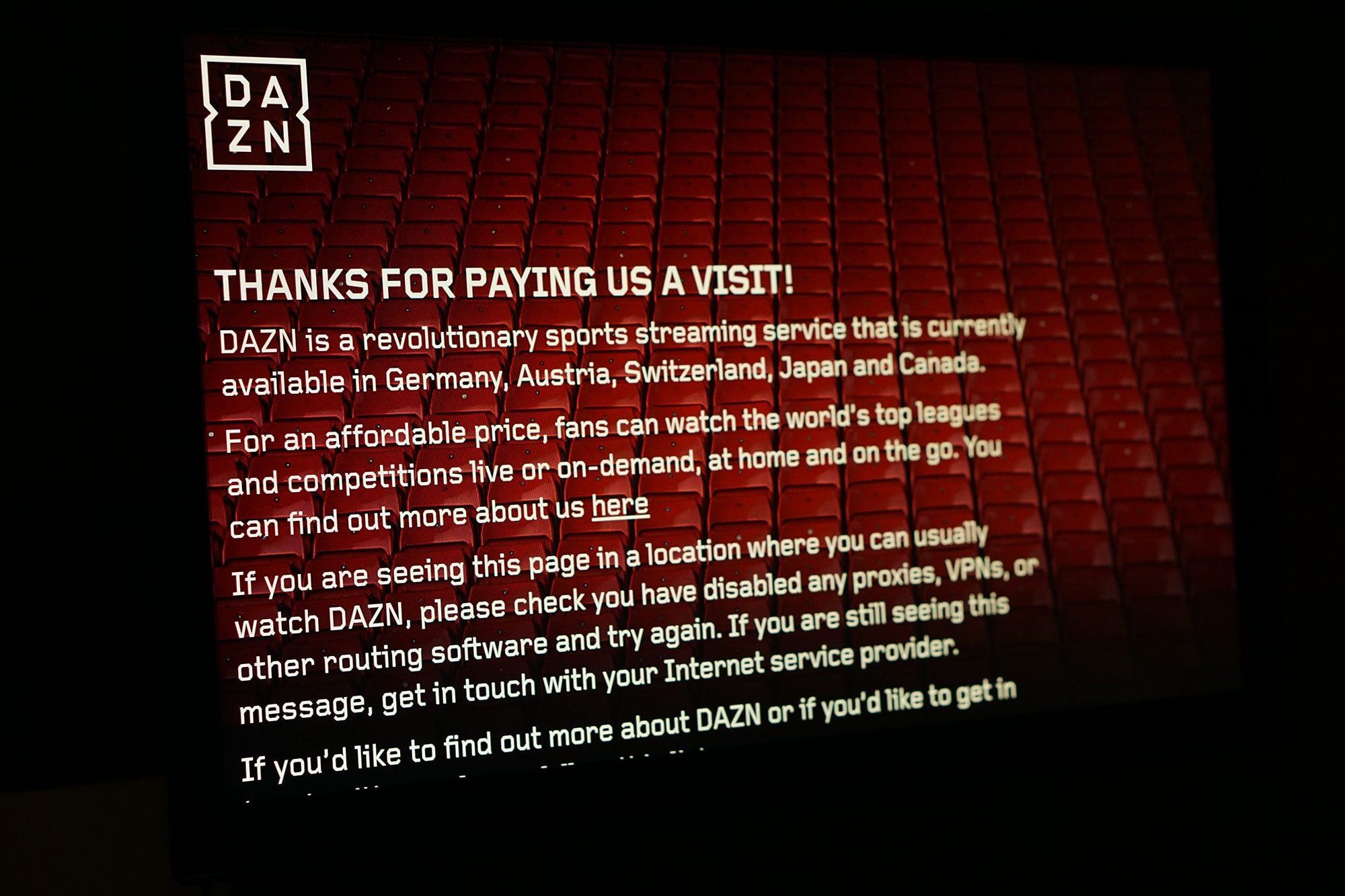 The solution?
Being in a DAZN supported region, virtually.
In this instance? Canada.
How do you do that? By using a VPN which is a virtual private network.
By using a VPN, you can change your location, virtually.
MOST VPN SERVICES DON'T WORK WITH DAZN THOUGH!
DAZN as a platform has to ensure that people in other countries can't use it. Paying over a billion for exclusive rights to Champions League is great until it's not exclusive anymore because somebody used DAZN. Then you paying so much money for exclusive rights to eliminate competition isn't exactly worth it, is it?
That's why DAZN doesn't just prevent certain locations from working, but it also prevents VPN services from working.
What service works with DAZN? Well, PrivateVPN is one of the few that does.
If you connect to one of our Canadian servers, you will be able to get DAZN to work.
We can't share the name server here, but if you go into our app, you will figure it out quickly by going through Canadian servers.
You need a server that works with DAZN otherwise a VPN is useless to you, and PrivateVPN works with DAZN.
But while this is the most important step for being able to access DAZN, it's actually the easiest step.
Making a DAZN Account to Access It Before It Comes to the UK
The registration part might just about be the hardest step.
See, it's not a simple registration like on Netflix.
You need to have a Canadian card for registration.
The best way? Contact a Canadian friend if you have one.
If you don't, well, order a pre-paid card issued in Canada after doing research to make sure it currently works with DAZN, or, otherwise, get a virtual card which will be much quicker than getting a pre-paid card, but the success rate with such will be much lower.
Once you have a Canadian card and are of course using a VPN to access the DAZN site, you will be able to register. And you know how that goes, it's pretty simple. We don't need to get into it. But of course, provide a Canadian address when registering.
If you are not for going through all of this effort to get DAZN, that's fine, but you also wanted to find when is DAZN coming to the UK because you want to use it, and it's not for a long time, so if you really want to use DAZN, this is what you have to go through.
Using PrivateVPN and a Canadian card will allow you to use DAZN but only on the web browser of desktops & laptops. This applies to Mac's too.
If you want to watch on mobile devices or on your Fire TV Stick, you need to download DAZN, and that also requires you to do some work.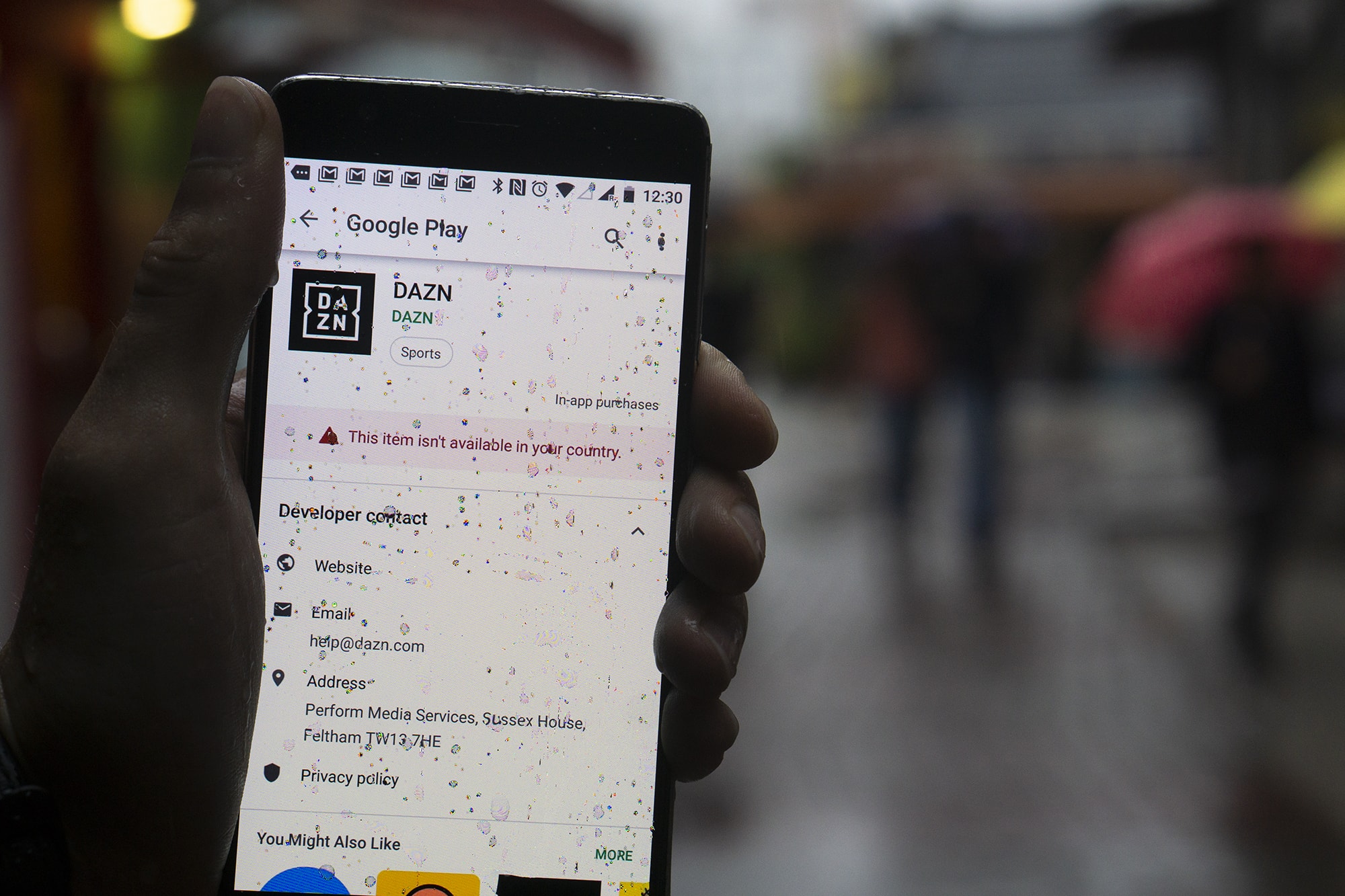 Installing DAZN on Apple Devices
On Apple devices, you need to sign out of your iCloud which you can do in the settings. After you do that, create a new account with your location being in Canada.
Use an address generator to get a random Canadian address.
That will change your App Store to be in Canada allowing you to download DAZN.
After you download it, you can sign in into your other account.
Whatever you do, do not just change the location of your current account as you will lose everything!
Installing DAZN on Android Devices in the UK
On Android devices, unlike on Apple devices, you need to change your address rather than make a new account.
Go to payments.google.com and click on Settings.
There, press on the Country tab and press Continue.
Select Canada as a country and put it a random Canadian address.
Submit that and go into Settings on your device followed by Apps where you need to find Google Play Store and press Force Stop followed by going to Storage, finding Google Play Store, and pressing CLEAR DATA in caps.
This should let you download DAZN. If not, repeat force stopping and clearing data.
Installing DAZN on the Amazon Fire TV Stick in the UK
Go to amazon.co.uk. Press on Your Account and go into the Manage Your Content and Devices. There if you press on Preferences, you should be able to change your region. In this instance, mark it to be in Germany. Provide a German address, and lastly deregister your Amazon Fire TV Stick in the settings of your device. Log back in, and you should see a German Amazon Appstore. That will allow you to download DAZN.
The reason you have to connect to a German rather than Canadian location is that Canada doesn't have its exclusive Amazon Fire TV Stick.
You might have to delete your current payment method and potentially add a German one, as otherwise, you might get errors when trying to download DAZN, although this depends on your current payment method.
Access DAZN in the UK Before It Comes
When is DAZN coming to the UK? Not for a long time. This? It's not ideal, but if you really want to access DAZN in the UK, this is how you do it.
Written by Michael Smolski.