How to Watch Polish TV in the UK in 2018
You have Polish roots due to WW2. Perhaps your parents moved to the UK when you were little. It doesn't matter. What matters is that you want to watch the Polish national team play. Well unless it's the FIFA World Cup or Poland is playing England, the chances are you will not be able to watch the Polish national team play in the UK. That's why you want to know how to watch Polish TV in the UK in 2018. Or perhaps because you simply want to watch a Polish TV show.
Regardless of what you want to watch, there is a great way to do so that will allow you to watch football matches and plenty of other sporting events and not just, in high-quality and from a legal stream. And that's whether you want to watch Polish TV in the UK, Sweden, Ireland, USA, Canada, or pretty much wherever you are.
Where This Won't Work
Now, if you are already in the countries that won't allow this method, chances are you aren't even reading this, but if you are only planning on going to these, then you should know this.
This method is most likely not to work in China, but you might also have a problem in Iraq, Iran, Turkey, United Arab Emirates, Oman, Russia, and Belarus. And of course in North Korea, and we don't recommend that you visit there. And if you do, it's not like you'll even have access to a computer or internet.
So What Do You Need to Do to Watch Polish TV in the UK in 2018?
TVP is the only public TV broadcaster in Poland. They offer TVP VOD on their website. That should allow you to watch most of their shows without needing to do anything. The problem starts when you want to watch sports.
If you go to sport.tvp.pl, and press on any sports transmission, you will get a black screen that says that "due to licensing reasons, this material is not available in the country from which you are connecting." Perhaps you already faced this issue when trying to use TVP to watch your national team or perhaps when trying to watch the Champions League or the Olympics.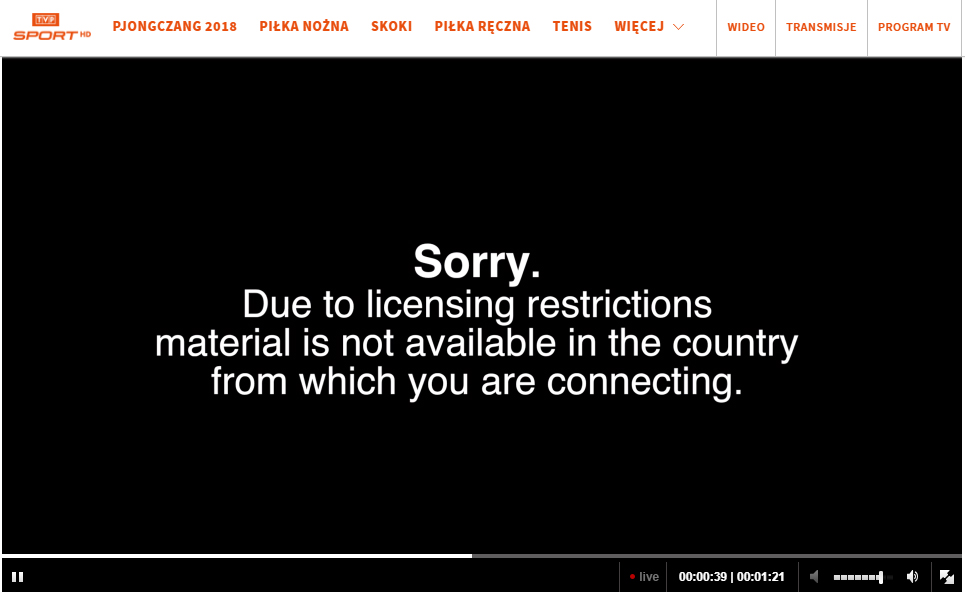 To watch Polish TV in the UK in 2018, you need to be in Poland. And you should for sure visit Poland. And especially Krakow. It offers incredible prices, food, and atmosphere. But if you can't make it there, you can make it there virtually.
And that's what you need to to do watch Polish Tv in the UK. VPN is also known as a virtual private network and allows you to be virtually anywhere. Provided that the VPN company has servers in the country that you are trying to access. The second must is a company having working servers for the services you are trying to access in that country. In this case, a Polish server you are using must work with TVP. And our one at PrivateVPN does. All you need to do is connect to our Polish server and refresh your web browser. And that's it.
It works the same way for connecting to American Netflix in the UK.
So How Do You Set PrivateVPN up to Watch Polish TV in the UK?
Click on the Buy button on the top-right of the screen.
Go through the 3-step registration process.
Go to the Download section at the bottom of our site. Choose the version that works for your device.
Install it.
Restart your Windows or macOS.
Turn on PrivateVPN.
Connect to our polish server.
Turn on your web browser.
Go to sport.tvp.pl and watch whatever transmission that you wanted to watch but couldn't watch.
Written by Michael Smolski.