How to Get RTE Player in Australia in 2022
Living in Australia and thus want to get RTE Player in Australia? Perhaps simply visiting and want to keep up with your favorite Irish content? In this quick guide we'll show you how you can get RTE Player in Australia. And the best thing about this guide is that these steps also will allow you to unblock more Netflix content while also allowing you to access other European streaming players such as BBC iPlayer. What's Needed to get RTE Player in Australia
RTE as a platform has some of its own content but it also shows a lot of content that it doesn't make or own. A great example of that is a lot of Champions League content that it showed during the 2021/2022 season.
Due to that, it's not able to show the majority of the content that it offers as someone else already offers it in most countries. For example Champions League rights are quite often exclusive and expensive. For RTE to get them for Australia with Australia not being RTE's target audience, makes absolutely no sense for RTE.
RTE Player as a platform is somewhat easy to get in Australia. That's because it's not a platform like HBO Max or Hulu which also has payment verification methods in place to ensure that you are signing up from the right region. Since RTE Player is a free platform, it only has one method of verification that you are in the right region. And that is to check your IP address check which ensures that you are located in Ireland.
An IP address check is a method used on pretty much all streaming services as it allows services to easily determine if you are in the region the service is available in or not.
How to Get RTE Player in Australia
To get RTE Player in Australia you are going to need to make it look like you are in Ireland.
How do you do it?
By using a VPN.
VPN services? They allow you to virtually change your location to be somewhere else. In this case, you can look like you are in Ireland while in reality you are in Australia.
And that's how simple it is.
…On paper.
In reality, RTE Player takes measures against VPN services resulting in most of them not working with RTE and the service telling you to turn off your VPN to use the service.
And that's where PrivateVPN comes in as a service with focus on quality rather than quantity, and making sure that servers offered such as the server in Ireland work with services like RTE Player.
Signing up for PrivateVPN? It's incredibly easy.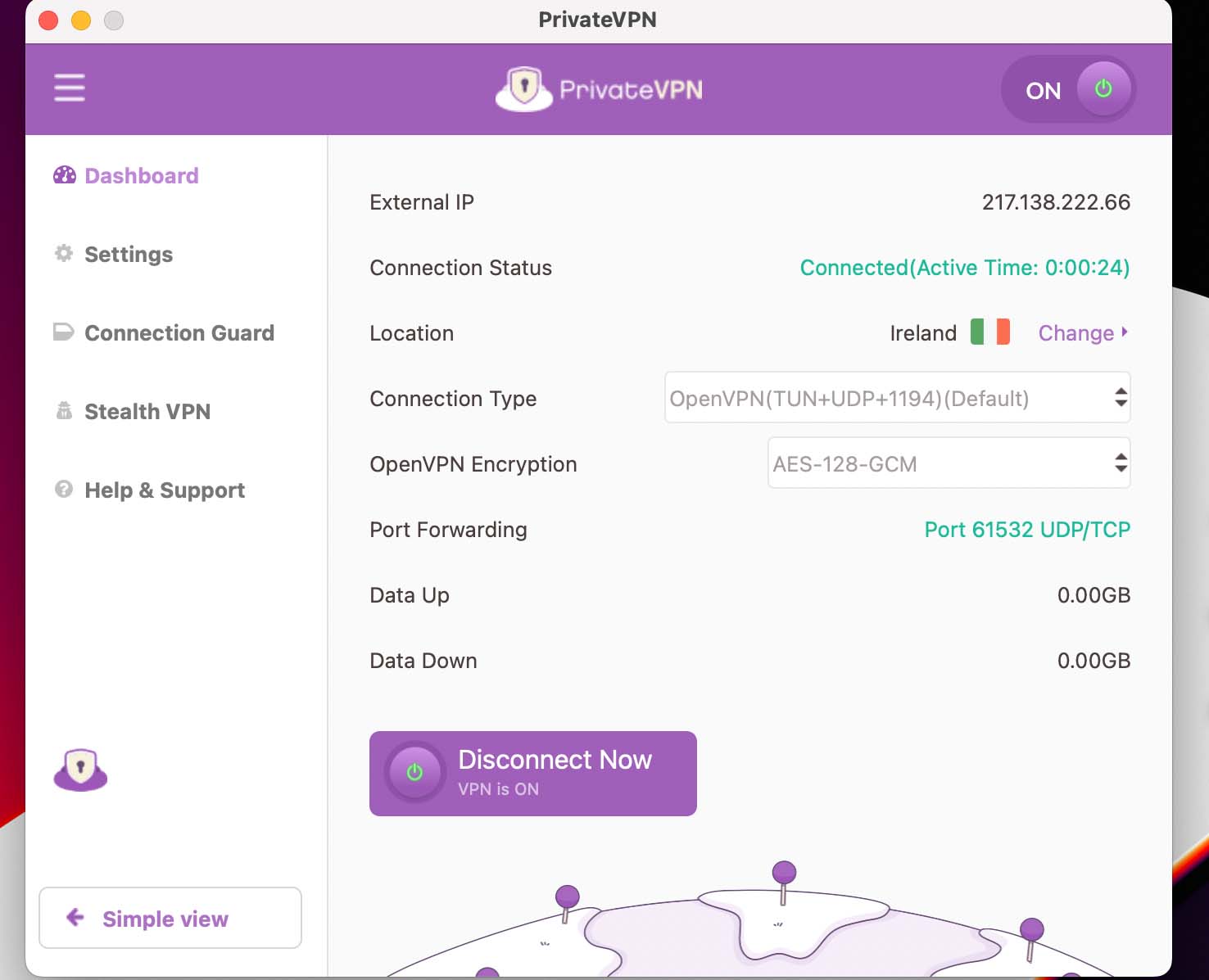 We ask for bare minimum when signing up, and then just download the app, and connect to an Irish server. That's how simple it is. Whether you have an iPhone, Android, macOS, or Windows device. PrivateVPN even works on Amazon Fire TV Sticks allowing you to unblock entertainment on the big screen without having to connect your laptop.
But it doesn't need to stop at RTE Player either. You can use PrivateVPN on up to 10 devices at one time, meaning people in your household can unblock other content, not necessarily from Ireland, meanwhile you watch RTE Player in Australia. All of that while getting privacy and safety online with military grade encryption which in the case of PrivateVPN means 2048-bit encryption with AES-256, the highest available on the market meaning you can be protected even when using public Wi-Fi.
That's How to Get RTE Player in Australia
This is how to get RTE Player in Australia, but it's also how to get BBC iPlayer with the exact same steps, but with a slightly different method of registration, but you'll find out when you try PrivateVPN.
Written by Michael Smolski.
Disclaimer: While PrivateVPN works and has worked with RTE Player for years, due to the fact services like RTE Player need to target VPN services, it cannot guarantee non-stop support at all given times. No service can. Due to that we recommend you go for a monthly subscription.